An Coppens is the Chief Game Changer at Gamification Nation Ltd and she is a leading expert in gamification design for employee and learner engagement, with over 15 years experience in creating behaviour change through creative and innovative solutions. In 2016 she received an award as a HR technology visionary at the World HRD conference in Mumbai, India. Her fourth book: "Tapping into the crowd – gaining competitive advantage from the inside out" is now available on Amazon. It covers employee engagement and applying crowd sourcing as well as gamification to the people facing business processes.
She is an award-winning Speaker, L&D professional, business and executive coach and author. In her career today she has worked with global brands in media, finance, education and FMCG markets, she has advised 100's of business owners and inspired 1000's of individuals to level up their game. 




She is an avid blogger on the topic of gamification and has been listed in the top 10 UK digital and technology bloggers in the UK Blog Awards of 2016 and 2015.
With Gamification Nation, An offers gamification design services, a gamification membership community and online learning programs, which are designed to encourage winning behaviours and improve business results in the areas of sales, recruitment, learning and productivity. She is a prolific blogger on the topic through www.gamificationnation.com and tweets under her Twitter alter ego @GamificationNat. 
She was ranked in the top 100 Innovation and gamification experts in 2012 and in 2015 stayed in the top 10 of gamification gurus worldwide. As a result she has been asked to speak at conferences and has been commissioned to write about gamification in business for book boon. She is currently working on her next book about gamification for employee engagement.
After publishing her first book and thanks to an active social media profile, An attracted the attention of Impackt Publishing and was asked to write about the recruitment of IT talent. In February 2014 her second book "Attracting IT graduates to your business" was published and is currently for sale both on the Impackt Publishing website and Amazon.
An Coppens fulfilled a lifelong dream and goal of publishing a book in November 2012, with 'Leading the boss in the mirror" and the official launch took place on June 11th 2013. 40 people attended and had a fun filled evening with happy dances and other additional content that didn't make it into the book. She pulled together 15 years of experience working with work life balance and leadership development into a book to assist more people to take a self-aware approach to stress management.
She briefly worked as a learning and development manager at American Express in London. She was a corporate training consultant for the internal Academy at Modern Times Group, she joined the group in Stockholm in September 2010 and from August 2011 she was based in London with the same company in their Viasat Broadcasting Offices. She was applying all her experience to date in an intra-preneurial setting. After only a few weeks on the job she won the internal rookie award for the Modern Services team, which very much surprised her, but she is proud of it all the same.
She is a speaker and trainer on leadership, productivity and focus. She was a tv-expert for Irish national television on business coaching, time management and work/life balance. She has published articles in business magazines, written e-books and conducts both online and in person seminars. She has extensive expertise in implementing change and is always tinkering with learning innovations and created products like work/life balance on a stick and a DVD series for self-coaching, when very fewin the industry were doing it.
An Coppens established B/Right Business Coaching in 2001 to serve the Cork market, but expanded rapidly nationwide in Ireland and the UK. An was a regular guest expert in the area of business coaching, work/life balance and time management on the RTE programme 'How long will you live?'.
She specialised in working with professional high achievers from the legal, financial, medical and real estate industries. Her track record has seen some of her clients move from less than one million in net worth to multi-million status, whilst working less, more efficient and living their passion.
She equally has an excellent track record with start-up companies in the professional services industry, most of them hitting breakeven and profit within 6 to 18 months once they follow mentoring advice. As a coach in practice for 8 years An has built her business solidly by referral. 98% of business comes through referral from existing clients and business contacts. Her presentation style is pragmatic, interactive and above all focuses on results.
In 2007, An was awarded the European Coaching Achievement Award for lasting client results; she was nominated by her clients for this award. For the nomination clients had to prove they achieved lasting benefits of having worked with An as a coach. She is the only coach in Ireland to achieve this accolade.
An Coppens is a qualified life and business coach with international qualifications from the USA, Australia and Ireland. She is a master practitioner of neurological reprogramming, neuro-linguistic programming and hypnosis. An also holds an Masters in Business Administration (MBA) with a change management and strategic HR focus from the Open University Business School and a BA (Honours) degree in International Marketing and Languages from DCU.
Prior to setting up her own business An worked as a change management consultant for Arthur Andersen Business Consulting and Xigma Management Consultants, which gave her international exposure to large multi-nationals and semi-state organisations. She has also lectured for a number of third level institutions in the areas of human resources, organisational behaviour, performance management and call centre management.
Leisure interests
For fun and relaxation An enjoys running and so far she has completed 5 marathons (Cork x 2, London x 2 and New York), 2 triathlons and a half marathon (Connemara Half Marathon).
Year round when living in Ireland she enjoyed sailing and she truly believes along the Irish coastline you find some of the most magnificent views and places.
She gave freely of her time in Cork for the Cork Choral Festival, where she usually assisted as a failteoir (welcomer) for foreign choirs. She is also the head of liaison for the Cork City Sports, which again is a volunteer role and has me looking after incoming athletes their transport and accomodation, which she managed to keep up even after moving to Stockholm.
She enjoyed the friendship and support as a member of the Rotary of Cork and have done several projects for young people as well as held the district youth opportunities chair, which demanded co-ordination of all youth activities in both Ireland and Northern Ireland. Since moving to Stockholm she has been made an honorary member of the Rotary Club of Cork for all the efforts made for club and district projects.
In all her marathon endeavours she raised money for charity, usually for children that really need help.
Her favourite charity and the best working model she has come across is an organisation called Friends International. An saw first hand how they reintegrate children that live on the streets into education and then society. Here is the link to their web-site, do what you can to help this really worthwhile organisation.www.friends-international.org.
My Background
I have an enterprising personality and an innate passion to see people achieve more than they thought was possible. I am curious about different cultures and ways of working, which is why I chose contracting early on in my career to develop a broad base of experiences and then rolled into running a business and enjoyed a career as an internal training consultant and now looking for new opportunities in learning and development.
My interest in making a difference has always involved a full life with extra-curricular activities from basketball coaching for young people whilst still in college to becoming responsible for district youth opportunities in Ireland and Northern Ireland as part of Rotary International. I have had great fun hosting choirs for the Cork Choral Festival and managing athletes coming and goings as head of athlete liaison for the Cork city Sports.
Travel has always been high on the agenda and I have lived in 5 European countries (Belgium, Ireland, France, Sweden and the UK) and worked in over 10, which has resulted in an international network of contacts around the globe. I aim to take a major holiday every number of years to explore areas that have attracted my curiosity such as Peru, Cambodia and on my current to do list is Nepal.
My passion for learning and development is not limited to develping others, but it is something I am consistently busy with from reading books, writing blogs and articles as well as taking courses online and in person with people that have interesting topics to share.
Early entrepreneur and innovator
My career as an entrepreneur started pretty much in secondary school which got me branded as a 'subversive element' by one of the teachers of whom I used to be teacher's pet. To kick off the launch of our student magazine, we had obtained principal's permission, teachers' supervision and then launched a questionnaire and caricature competition to help us with the first issue. Needless to say when you ask the opinion of all students that all of them want to know the outcome, so our first issue was a sell-out on day 1 and had to go into reprint to supply demand. Because I was in the senior years of school, we only managed 2 issues before handing over to younger students, who kept the magazine going until the school closed a few years later.
When I moved to university I worked to pay my college fees and to bring in extra money for living expenses. To assist this process in the early 90's before the Celtic tiger arrived in Ireland, I set up a translation and language training company called Local-lingo which was very much a lifestyle business that gave me a bit of income and I picked my assignments. The only overhead was my time and a few business cards, everything else ran itself.
In 2nd year in university a fellow student approached me about this network marketing business, which intrigued me and offered products for everyday use and a great self-development structure with books, tapes and seminars to keep people motivated. Even though I only ever hit the 9% pin in terms of turnover and group development, the self-development element of this business had me interested and I hung around for this for quite a number of years. At some point I did establish that I didn't suit network marketing, but that the discipline of learning from successful people and listening and reading positive material was helpful, so that is a habit I kept up since 1994. To this day I still read on average a positive or business building book a month and attend seminars to listen to other success stories and surround myself with positive people.
The year after I graduated, I entered the then 'Coca Cola National Enterprise Awards' and managed to be one of the 16 finalists to go on a business plan and mentoring journey to develop my localisation project into a business. The idea was to design software that could instantly translate web-sites from English into other (minority) language with the push of a button. Back then software engineers were mega-expensive and we couldn't quite establish the size of our market nor the complete feasibility of instant translation without human corrections (something to do with software code being mathematical and language organic). Anyway to cut a long story short, my mentor didn't understand what we were trying to achieve and didn't believe it had potential. I got stuck on the fact that we couldn't raise enough money to afford a software engineer that could have at least told us whether it was feasible, so eventually we shelved the project. To this day I am not sure whether this exists, is feasible and viable, so if you know and you have a can-do mindset… by all means come and talk to me.
Management consulting and project management experience
I then decided to work in management consultancy for a while to learn how big organisations go about their business, even though the entrepreneurial urge never quite left.
I got the opportunity then to start my management consulting career with Xigma Management consultants, which gave me great exposure to the world of international retail and implementing cultural change across several countries with multiple outlets varying in size. It gave me experience in influencing at all levels in an organisation from the boardroom all the way to ground floor staff. My interventions ranged from presentations, workshops, facilitation to training and coaching. As an implementation focussed consultancy we translated the recommendation documents from the then big-6 into actual pragmatic working solutions. The two achievements I am most proud of in this role where to be assigned as lead consultant for the Benelux after success in an area of Germany and to upsell additional work for a different part of this retail client.
I then moved on to work for Phillips Electronics as a project manager to assist in setting up a shared services centre and look after the people transition aspects of this project.
My next career step was with Arthur Andersen Business Consulting as a senior consultant in the change enablement area. It was really interesting having started in an implementation consulting position to then move on to one of the big-4. The new highly structured ways of developing solutions and working on projects is something I carry along with me to this day. The variety of projects was interesting from middle management restructuring, to change management at the side of an IT implementation and strategy development for private and public service organisations. The career track was clear as well as the competency development steps necessary to move up the ladder and the level of knowledge sharing and learning interventions was world class.
It was during my management consulting period that I completed my Masters in Business Administration through distance learning with the Open University Business School, who always impressed me with top quality materials.
I decided to leave Dublin, move to Cork and there I set up ACE Consulting, which was change management for small business as I had learned at Arthur Andersen and Xigma Consulting for big businesses. I made good money and had some interesting contracts, but ultimately it was a lifestyle business that allowed me to live where I wanted and keep things ticking over.
Me & Franchising
At some point because of my consultancy background, I got lured into thinking that a franchise may be the next step and I became involved with a business coaching franchise. Looking back with hindsight knowledge this was a big mistake, I was not a systems person, in other words likely to tweak any franchise model to suit myself and we fundamentally disagreed about contracts, which meant I received the training, started, handed over some money but then when things turned sour neither party had a contract to fall back on, because I had never agreed to sign nor had they. An expensive mistake, I lost everything: the business, living in a lovely apartment, owning a house in Belgium, etc. I had to start from 0 and go back to sharing a house with students, work odd jobs to cover the bills etc.
B/Right Business Coaching
But I gained a passion to stop other entrepreneurs from making the same mistakes. I also felt there were very few mentors that actually believed in their clients, so with B/Right Business Coaching, I want to offer belief, motivation, support and business basics to ensure entrepreneurs make it to profit and beyond. I assisted 100's of businesses to make a profit both privately as well as part of the mini-company programme which I coordinated for the Cork city and county enterprise board and as a mentor forEnterpriseIreland.
Serendipity then provided a superb opportunity to become a guest expert on a national tv-show called 'How long will you live?'. The RTE researcher did an internet search on time management and Cork, which came up with my website and after a number of phone conversation I was hired for the pilot series. I then continued on for the next 3 seasons and become the preferred guest expert for those with a lack of work/life balance. I thoroughly enjoyed this experience and will always have an open mind to future opportunities of this nature or to have my own tv-show.
As a result of becoming a tv-expert on work/life balance, I spoke regularly at conferences on this topic and my business trippled, which meant I hired a team to assist with the workload, so I could keep my own work/life balance. My client base evolved to professional overachievers from service industry businesses.
In 2006 I was nominated by my clients for the European Coaching Achievement Award from the European Coaching Institute and awarded it in 2007, much to my personal surprise. My clients had gone through the effort of filling out a 12 document to prove how my coaching had helped them create a lasting difference. This one has to be classed as one of my biggest highlights in business.
I also became the first business coach in Ireland with a DVD series and created innovative solutions like the work/life balance on a stick invention. I sold through social media and had profitable webinars. My belief is that firsts are great and trying something new is to be encouraged.
I also had a long standing relationship with Professional Training and regularly delivered training, coaching and consulting services for their clients. I networked regularly through BNI and ladies networks and developed long lasting business relationships in the local business community.
From late 2008 onwards, I could see a serious change in the Irish economy with coaching and training budgets being frozen or delayed, which by the beginning of 2010 meant that keeping the business was harder and downscaling back to being a solo-preneur working from home.
Learning and development
No matter what role I held from a business owner to a consultant, I always had a facilitation or training brief included. In my view coaching is also a form of encouraging learning and can be done in group as well as one-to-one or even online in webinars.
So when the opportunity came along to take up my internal training consultant position with Modern Times Group, I felt well equipped to deliver top-quality solutions for a multinational media group. It allowed me to combine my interest in tv and media as well as my experience in coming up with innovative training solutions.
For MTG Academy I re-designed the leadership programme, the project management course and introduced a strengths based leadership module, which won me the rookie award after only a few weeks in the company and more recently I introduced webinars as a way of sharing best practice and encouraging learning thinking.
My personal preferences are in the area of leadership, learning and development, innovation, change management and coming up with solutions that deliver results. My ambition is to take up a leadership role in this field.
Awards
2016 HRD Technology Visionary – awarded by WHRD in Mumbai
2007 European Coaching Achievement Award
2009 Cork Rotary Club – Clive Hutchinson Award for exceptional service for youth in the club and district
2009-2010 Rotary District 1160 (Ireland and Northern-Ireland) – Youth Opportunities district chairperson
October 2010 Rookie Award – MTG Modern Services team
June 2011 awarded Honorary Membership of Cork Rotary club for club and district service work in previous years
Achievements
Work/life balance coaching and TV-Guest expert on RTE TV-Programme "How long will you live". I guide participants on how to achieve work/life balance in order to bring their stress levels down and in the long run increase their life expectancy. Involved since programme pilot and for the 4 subsequent seasons. Show aired on Irish national TV and Sky TV in the UK
Qualifications
Coaching qualifications
Masters in Neurolinguistic Programming and Repatterning awarded by Christopher Howard Training
Master in Hypnosis, Master Results Coach awarded by Christopher Howard Training
Diploma in Life and business coaching awarded by the Irish Life Coach Institute
Two-week business coaching licensee training by Brad Sugars & the team of Action International
Youth Sports coaching qualification & preferred youth camp coach for Flemish Sports Board as well as 2 years practice with under-12 boy basketball teams
MBA – Masters in Business Administration awarded by the Open University Business School (July 2001)
Modules studied: Strategy, Foundations of Senior Management, Knowledge Management, Creativity, innovation & Change, Strategic Human Resource Management
BA (Hon) in International Marketing and Languages awarded by Dublin City University (October 1997)
Gamified Designer – level 1, 2 and 3 awarded by the Engagement Alliance (2013)
Octalysis Level 1, 2, 3 (2014)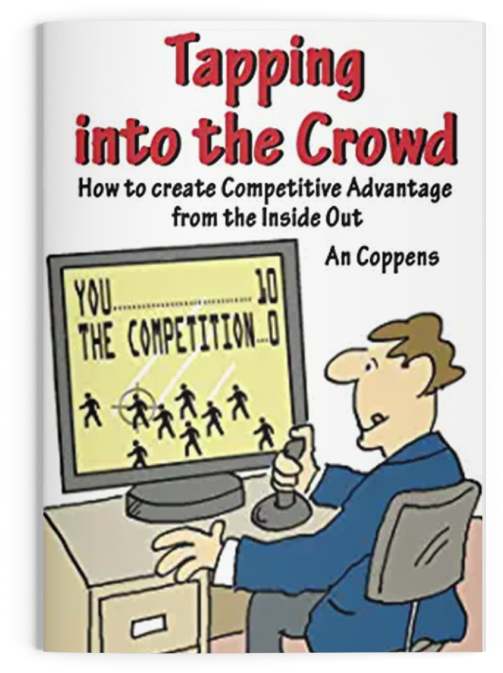 Tapping Into the Crowd
How to create competitive advantage from the Inside Out.
Available now from Amazon. In the book An talks about the emergence of crowd sourcing and how this is relevant to employee engagement. She shares how examples and how others have approached this. She also explains how gamification can add to the mix.
Mosty Recent Events