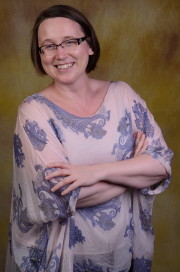 An Coppens is a leading expert in gamification for employee and learner engagement, with over 15 years experience in creating behaviour change through creative and innovative solutions.
She is an award-winning Speaker, L&D professional, business and executive coach and author.
In her career today she has worked with global brands in media, finance, education and FMCG markets, she has advised 100's of business owners and inspired 1000's of individuals to level up their game.
She is an avid blogger on the topic of gamification and has been listed in the top 10 UK digital and technology bloggers in the UK Blog Awards of 2016 and 2015.
With Gamification Nation, An offers gamification design services, a gamification membership community and online learning programs, all of which are aimed at producing business results for clients in areas such as employee engagement, learner engagement and customer engagement. She was ranked in the top 100 Innovation and gamification experts in 2012 and in 2015 stayed in the top 10 of gamification gurus worldwide. As a result she has been asked to speak at conferences and has been commissioned to write about gamification in business for book boon. She is currently working on her next book about gamification for employee engagement.
Upcoming speaking schedule:
November/December 2016 – Educa, Berlin, Germany
November 2016 – World of Health IT, Barcelona, Spain
October 2016 – Gamification World Congress, Madrid, Spain
October 2016 – Gamification in HR, Singapore
Past events:
September 2016 – 100+ Club Peter Thomson, Birmingham, UK
September 2016 – Kramfors Community School, Kramfors, Sweden
June 2016 – Corporate Universities and Academies Summit, Amsterdam, Netherlands
June 2016 – Savage Marketing Tech in Amsterdam, Netherlands
March 2016 – Gamification in HR in Kuala Lumpur, Malaysia
February 2016 – Smart simplicity – HR summit in Istanbul
February 2016: World HRD Congress, Mumbai, India
January 2016: BETTS , London
November 2015 – Gamification World Congress in Barcelona
October 2015 – HR Tech World in Paris
September 2015 – Employee Engagement workshop – Landscape in London
May 2015 – World Gamification Meetup Scandinavia in Stockholm
April 2015 – Gamification in HR in Vienna
April 2015 – Gamifiers Meetup in London
March 2015 – ITOL Future of Work in Bucharest
March 2015 – Digital Futures – Erasmus Hogeschool Brussels – Belgium
December 2014 – Gamification Round Table by Games for Business
November 2014 –  Elearning 2020: Stay ahead of the Game!
November 2014 – The Future of Work in London
October 2014 – Gamification in Sales & Marketing at 10th Sales & Marketing in Pharma conference in Amsterdam
October 2014 – Gamification in HR at HR Change & Transformation in London
July 2014 – Gamification Talk Radio: Gamification to engage women online
July 2014 – Gamification to engage app users for BrightTalk online
May 2014 – Gamification World Congress in Barcelona – check out our blog of the event
May 2014 – Gamification in HR Summit in Paris – check out our blog of the event
February 2014 – moderator of online web summit Get it Gamified from BrightTalk